1. About flyer printing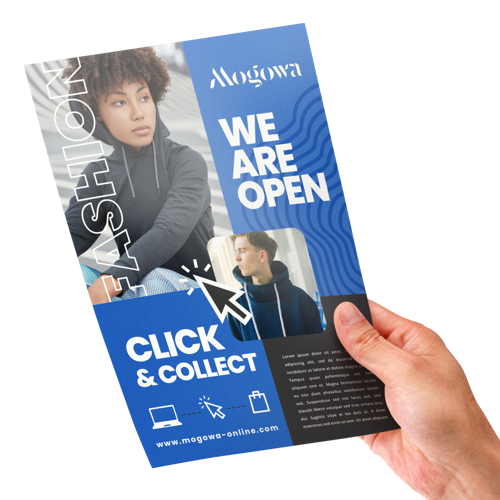 Flyers are an effective marketing tool for any business or organization that wishes to promote a product or an event. The high versatility and the low cost of flyers allows businesses to quickly reach a large audience at a relatively low cost. As we have a minimum order of quantity of only 200 flyers, they are a suitable marketing tool for businesses of any size.
We offer a wide range of options to meet the requirements of businesses and organizations of any nature. Our flyers come in any size up 95 cm x 65 cm and can be printed on paper weighting 80gsm to 400gsm. For the finishing touch, we offer either U.V. coating, matte or glossy lamination for your flyers.
If you don't have already the design of your flyers, you can visit our page about the design of flyer:
Flyer design
2. Flyer printing options
Quantity: 500 – 300,000
Format: width between 10cm and 95cm, height between 10cm and 65cm
Printing 1 side or 2 sides, color or black and white
Paper type: bond paper (80gsm or 100gsm), art glossy (85gsm, 105gsm, 130gsm or 160gsm) or art card glossy (190gsm, 230gsm, 300gsm, 350gsm or 400gsm)
Refinement: none, glossy or matt and U.V. coating (1 or 2 sides)
3. Flyer artwork preparation
To be sure your own artwork is ready to print, you can check our Printing artwork guidelines.
If you don't have artwork yet, we can create it for you…
4. Flyer printing prices
To be able to provide to you a quotation, we need to know all the printing options mentioned above.