1. About leaflet printing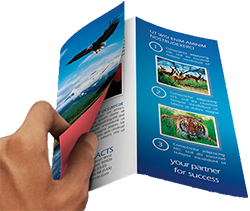 Our leaflets are similar to our flyers, but come folded in one of our many folding options. Leaflets are an equally effective marketing tool as flyers and have the additional advantage of coming in a more compact form. Starting at a minimum order quantity of only 100 leaflets, they are a suitable marketing tool for even the smallest businesses.
We offer a wide range of options to meet the requirements of businesses and organizations of any nature. Our leaflets come in any size up 84 cm x 52 cm (open format) and can be printed on paper weighting 80 to 300gsm per square meter. For the finishing touch, we offer either U.V. coating, matte or glossy lamination for our leaflets.
If you don't have already the design of your leaflet, you can visit our page about the design of leaflets:
Leaflets design
2. Leaflet printing options
Quantity: 500 – 100,000
Open format: width between 15cm and 84cm, height between 10cm and 52cm
Paper type: bond paper (80gsm or 100gsm), art glossy (85gsm, 105gsm, 130gsm or 160gsm) or art card glossy (190gsm, 230gsm or 300gsm)
Folding: letter fold, zigzag fold (2 fold), zigzag fold (3 fold), parallel fold, window fold, roll fold, singlefold horizontal or singerfold vertical
3. Leaflet artwork preparation
To be sure your own artwork is ready to print, you can check our Printing artwork guidelines.
If you don't have artwork yet, we can create it for you…
4. Leaflet printing prices
To be able to provide to you a quotation, we need to know all the printing options mentioned above.
---
Samui Multimedia
projects for the service : Leaflets printing